Roundup Ready-To-Use Grass and Weed Control w/FastAct Foam - 2L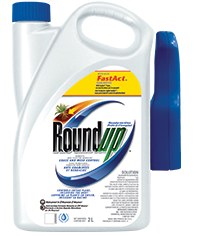 Roundup Ready-To-Use Grass and Weed Control w/FastAct Foam - 2L
$27.99
Description
Product Description

Kills unwanted grasses, weeds, plants to the root within 2 days



Product Details

A non-selective vegetation control herbicide, controls most annual and perennial grasses, including lawn grasses, broadleaf weeds and brush (i.e. virtually anything that is green and growing) Undesirable vegetation control (i.e. hard to- mow areas, around buildings). Apply to the following: Lawn trimming/edging, patio weed control, vacant lots, storage & recreational areas, driveways. Around Trees/Shrubs/Ornamentals Lawn/Garden renovation Brush control.
Apply on lawn grasses, broad leaf weeds and brush when you see them. Cannot be used to prevent weeds from growing.
Reviews
Customer Reviews
This product has not yet been reviewed.