Scotts Turf Builder Quick + Thick Grass Seed Sunny Bluegrass - 1.2 kg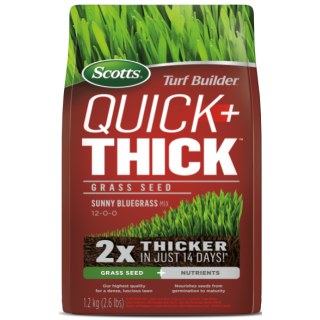 Scotts Turf Builder Quick + Thick Grass Seed Sunny Bluegrass - 1.2 kg
$22.99
Description
Scotts® Turf Builder® Quick + Thick™ Grass Seed Sunny Bluegrass Mix 12-0-0

Product Description

Here's how to grow a lush lawn in a hurry: Scotts® Turf Builder® Quick + Thick Grass Seed Bluegrass Sun Mix 12-0-0. Grows grass 2X thicker – in just 14 days!* Our exclusive mix contains our highest quality grass seed plus a special blend of slow-release fertilizers. So, seed not only gets a quick start, it grows into thick, green grass that lasts. 99.99% weed-free grass seed made just for sunny areas. Ideal for overseeding existing lawns. Great for establishing a new lawn on bare soil.

Product Details

Early spring and early fall are the best times to plant. Seed germinates best when temperatures are consistently 15°-26°C (60° to 80°F).

Coverage: 1.2kg - 1,863 sq. ft.
Reviews
Customer Reviews
This product has not yet been reviewed.